I wore this to work and got tons of compliments on how unique it is. I made it my mission to try and capture all of the different color shifts on camera. I still didn't manage to get them all, but these pics are better than my initial ones. The color shifts primarily emerald green-teal-purple, with a bit of rust orange when it's an extreme angle. It's amazing. I can't believe it. It did not wear well though. :( I had chips within 12 hours of wear time. I will happily put up with that for such a gorgeous color.

And just because I've had fun playing with making gif's.....
I swear it's only just one magical polish!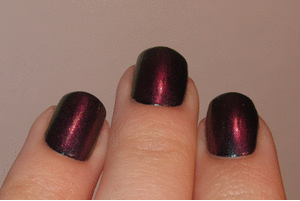 HITS - Cutie Pie
Reviewed by
sempak kuning
on
4:00 AM
Rating: