Nail polish jewelry is fun, I like experimenting with some of my favorite glitters and crazy polishes to make them into long lasting pieces. I did a post on my first bit of nail polish jewelry
here
. A bit of inspiration and collaboration later, and items made by me are now for sale on Etsy! My sister runs a shop there and has agreed to sell my items. Not just regular nail polish jewelry though... cuff links! Yes for men! Now you can have your man match your manicure! lol.
Wouldn't it be a good idea for a wedding party? The cufflinks could match the exact color of the ladies' dresses, or their nail polish too! Prom? You date can coordinate perfectly with your dress. Or just for any business man that has to dress up in a suit and tie for work.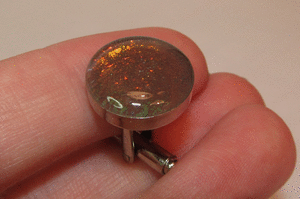 Use the coupon code "LESLIEBLOG25" at checkout for 25% off!
I'm For Sale On Etsy!
Reviewed by
sempak kuning
on
1:34 PM
Rating: